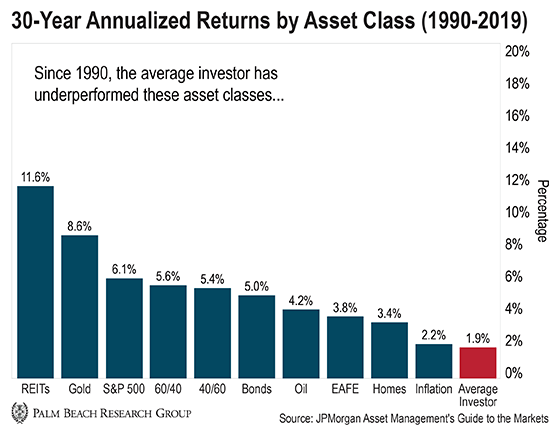 What it shows is that since 1990, the average investor has underperformed against most asset classes, despite investing in managed funds that would have easily matched or even outperformed the above results.
Here's why we are showing you this stunning visual. As you can see above, the average investor's return over 30 years is just 1.9% per year – compared to a 6.1% return per year for the S&P 500. In other words, the average Joe underperforms the market by over four percentage points. That's the difference between turning a $10,000 portfolio into $17,588, with the average investor's return… and $59,082 with the S&P 500's average return.
Related podcast: Lessons from Ray Dalio with Dean Evans
There are countless reasons for this. But they keynote is simply that the average investor does not have:
the mathematical understanding

emotional intelligence

willpower

patience, or

intestinal fortitude to hold tight when they are losing money.
You have all heard the old investing adage that will ring true forever: BUY LOW SELL HIGH. Unfortunately, the average investor does the complete opposite. They buy at a high price when every man, his dog and the taxi driver are giving the tip, and then they sell low at the worst price after the stock has crashed.
How is this related to punting?
Unfortunately, this also is what losers do when following successful tipping services. They join after a hot period, and then unsubscribe as soon as there is a losing period, which is why their results don't replicate the overall results of a service.
Greyhound Genius is a service that serves as a great example. This service has made 1,104 units profit over the past 5 years, an average of 220.8 units profit per year. The worst result over the past 5 years has been a 172.6 unit profit.
Yet from August 2015 to October 2015 it had 3 losing months in a row totaling a -50u LOSS. Had a member unsubscribed at this point, they would have missed out on the 141.4 unit PROFIT in November 2015, and in fact a total of 261.9 units PROFIT over the next 4 winning months.
In August 2016 the service made a -49.6 unit LOSS, followed by a 120.9 unit PROFIT the next month in September 2016, and 5 winning months in a row generating 228.1 units PROFIT. In February/March 2017 2 losing months worth 82.2 units LOSS were followed by 278.3 units PROFIT over the next 10 months for a 196.1 unit PROFIT over the 2 month period.
You can download the full results here
Members who 'bounced' by unsubscribing or switching to another service during the losing period had nothing to show for their membership period but a sob story blaming the analyst. Those who stuck solid were and continue to be duly rewarded with substantial profits.
This is why the team at Winning Edge Investments try so hard to educate and instill an investment mindset into our members. Because this is the key to your investment success, whether you are investing in stocks, bonds, managed funds, property or tipping services. The same mindset is required, or you will ultimately fail.
It's also why we align our business model and incentives to reward those who take this advice for their own success.
Our Profit Guarantee Refund ensures that you do not have to pay for your next quarterly or annual membership if the previous period was a loss, completely aligning our interests with yours, and ensuring you can continue for the subsequent upswing in results.
The purpose of our Profit Guarantee is to prove that we absolutely have 'skin in the game' with you. Most tips and/or ratings services do not offer any sort of compensation if you lose following their selections. We offer one so that during a period of variance, you can continue receiving the service without the cost of a membership payment.
Note this profit guarantee is very generous. If a service makes a 100-unit profit in the first quarter, and then makes a 1-unit loss in the next quarter, you still get your next quarter for free! Our Profit Guarantee applies to all Quarterly or Annual memberships.
It's also why we offer an exclusive and industry leading Loyalty Credit Bonus program, rewarding members with credit bonuses worth up to a stunning 30% for holding multiple active memberships to various services with Winning Edge Investments.
You can check out all of our membership options at: Products - Winning Edge Investments