Before the days of minimum bet laws, corporate bookmakers could close your account and there could be no argument as there was no legal basis for them having to keep any account open.
Thanks to the minimum bet laws, bookmakers can no longer close your betting account purely on the basis of it being a winning account which is what you will have if you follow our successful services. They can, and will however, restrict your betting account so that you will no longer receive what are considered promotional products.
Here is a race as shown on a well-known betting website.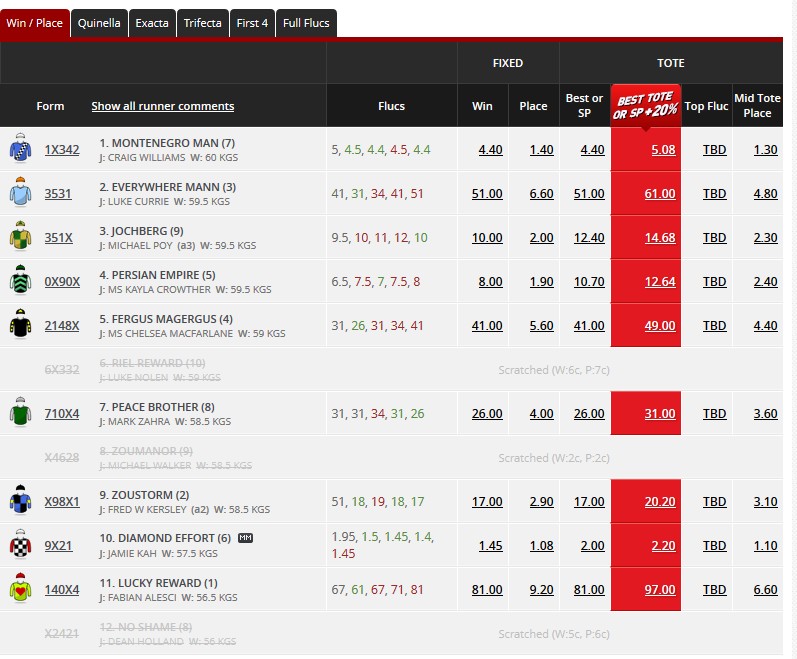 Here is the same race after logging in using a restricted account.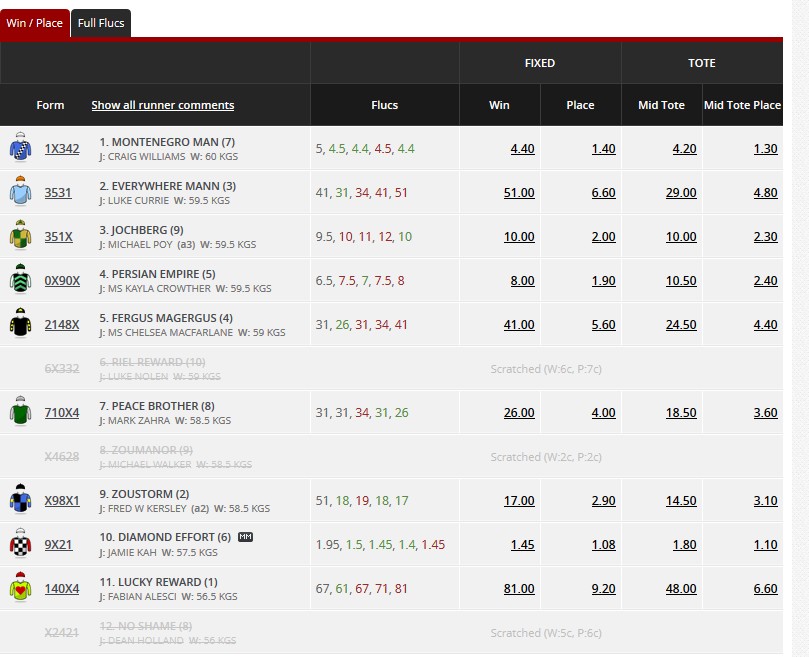 As you can see on this account the only products available are Win & Place fixed and mid tote. Even so, this betting account will not have bets accepted to win more than that covered by minimum bet laws.
This is a problem encountered by successful punters throughout the world. We are fortunate that minimum bet laws have been introduced in Australia, as many countries don't have the same protection and betting accounts are just closed.
You will often see bookmakers using large bets as a promotional device. This is particularly true of Tabcorp on their Thoroughbred Central channel in the final minutes leading up to a race. You can just about guarantee that any bet shown that results in a payout over the minimum bet laws is from a long-term losing punter. The bookmakers want 'mug money' and that isn't from a long-term winner.
In some ways you can view your first restriction as a badge of honor, but it quickly becomes very tiring and frustrating.
There are a number of actions that you can take to avoid your account getting restricted as long as possible and stay under the radar. It is likely that once a human looks at your winning account that it may be restricted. The person that does this is a business intelligence analyst and they have key indicators that they use for determining what type of restrictions they will put on your betting account.
What are the indicators bookmakers use?
Bet Size and Return
Large bets will attract attention quickly as will a bet that has a high payout. When betting with one of the large corporate bookmakers, try to avoid placing bets over $150 and any bet that will have a payout over $1,000. It is relatively simple to split a bet between multiple bookmakers. It would be much better to place two $100 bets instead of a single $200 bet. Consider that any bet over $100 is over and above what can be called recreational punting.
Bet Staking
Wagering very specific amounts (for example $123 on one bet, $64 the next) is like a red rag to a bull and an indicator that you are utilising a service. You want to have a number of set values that you bet, and they should be round figures or multiples of $5. If you're going to bet over $100 make sure it is in multiples of $25. Then you have to consider what to do when you decide to increase your unit size. If you have a good run with a bookmaker, an increase in the size of your bets won't attract too much attention as that can be viewed as giving the money back quicker.
Bet Timing
Try and avoid betting too close before the jump. Decisions on a potential lay off are made during this time. If you're betting just before the jump, it can compromise the bookie's ability to manage their risk or exposure as well as they would like. If your bet causes a problem on the race, the risk manager will likely send your betting account directly to the business intelligence analyst for review.
Betting early in the day, when taking advantage of early prices, has no such impact. If you can get a starting price guarantee that reduces the risk of a price blowing out. A starting price product like that is considered promotional and that may eventually be removed from your account.
Intercept
There is a very good chance that you have seen this occur. All or part of your bet may be reviewed by a risk manager. This may happen if the return exceeds a specific amount based on the type of race, location, and if your account has restrictions or watch notifications. If part of your bet has been accepted and the full amount falls with the minimum bet laws, they must accept the bet. If the entire amount is reviewed, you can expect the bet to be rejected as they can change the price during the time of the review. The review must usually be completed with thirty seconds. Some bookies allow up to sixty seconds. This is another reason not to bet in the last few seconds before the jump. If you find a large number of your bets with a bookmaker are being intercepted, try reducing your bet size. If your bets start getting caught by intercept frequently, the risk manager will refer them for review and the writing is on the wall for an account closure.
Specialising
If you bet exclusively within a certain state (or sport) your account will most likely get restricted. It is worthwhile having bets in racing and sports so that your betting account looks less specialised. It is worth noting that at this time there are no minimum bet laws in place for sport, so it is particularly important for members of our sports services to keep these principles in mind when placing bets. Having small bets on sports don't have the same distraction value that they did before minimum bet laws were introduced. However, if you're betting a significant amount on racing it would be worthwhile introducing some sporting services to your betting portfolio.
Withdrawals
A bookmaker has your full transaction history, including how much you deposit and withdraw. You may well encounter periods where no matter what you, do the balance of your account with a bookmaker can be wiped out. This doesn't mean that overall, you aren't profitable. It is just another example of variance at play. It can go the other way too, and it may seem like every bet you place with one bookmaker is a winner. You may be able to take advantage of an account being reduced to almost nothing. Leave it dormant for a while and you may get a deposit match offer, but don't count on it. You still need a good number of accounts so that you can get the best prices. They will always welcome a deposit. If you make regular withdrawals, it will be noted and may result in account restrictions. What they look at is how much money are you taking out of your account, and are they likely to get these funds back?
The Bonus Bet Conundrum
When you get bonus bets it pays to be sensible in how you use them. When there are winnings from a bonus bet the terms and conditions will have a turnover requirement. These can include a number of times the profit must be turned over. It can be between one and three times. In addition, there may be a time limit such as three months. While it makes sense to use a bonus bet on a high-priced runner, you must ensure you meet the turnover requirements when you have a big win on a bonus bet. If you play the exotics using bonus bets, just think about what would happen if you hit that massive $50K quaddie using a bonus bet and you have to turnover $150K within three months.
Chasing Bonus Bets
There is a thing called bonus bet abuse. Never place a second bet in a race where you have used a bonus bet. It can be called arbitrage and your bet(s) may be voided. There are promotions where you get bonus bets if your selection places but doesn't win. For example, they may be on the first four races at a specific race meeting. If you only place bets with a bookmaker on those races and no other races on the day, that can be classed as bonus bet abuse and just watch how quickly you're not eligible for those promotions. It is much better to try and get the best prices and if you end up with a bonus bet just consider that as good luck. Have a look at the market percentage at a comparable time for each race it is offered and compare it to a race where it is not. The bonus bets are paid for somehow.
Profitability – The Final Arbiter
No matter what happens, your account will be reviewed when it reaches a certain amount of turnover and the corresponding profit. There is going to be a long-term level of profit that is higher than they are comfortable with so eventually, no matter the steps you take, a long-term profitable customer will have their account restricted.
Betfair
It's a cliché but if you're not using Betfair you are costing yourself money. Betfair is an exchange, and they charge a commission on winning bets which usually makes the market percentage on Betfair much lower than that of a bookmaker. Betfair will never restrict an account, and even offer a discount on commission for high volume punters. You will often exceed the best price available from bookmakers on Betfair, particularly on high priced selections. The only restriction can be low liquidity in early markets.
What can you do?
Account restrictions and minimum bet laws
If you have an account that was heavily restricted or even closed before the minimum bet laws were put in place, there is something you can do about it. Oftentimes accounts were restricted in such a way that the maximum amount you could bet was a dollar or two. The idea of this is that it would have the effect of you taking your business elsewhere without having to close the account, so that you could still bet in markets where you're not profitable.
These restrictions are still in place in some accounts. If you have one of these it is quite simple to get your account changed so that you can bet according to the requirements of the minimum bet laws. Try and place a bet that would be subject to the minimum bet laws and when you get the message on the screen take a screen capture and save it to a file. Make sure that you have the race number, date and time on the screen. The next step is to call customer service. Tell them that they are not honoring the minimum bet laws and that your account needs to be corrected accordingly. If they say they can't do that, ask them for the name and email address of their compliance officer. If they refuse, just get the standard email address from their Contact Us webpage. Send an email stating that they are not compliant with the minimum bet laws on your account and that it needs to be fixed. Include the screen capture that you took in the email. Advise them that if it isn't corrected immediately, you will be taking a complaint to the relevant regulator. If you don't get a response within that time scale, make a complaint.
Account closure and minimum bet laws
If you have an account that was closed before the minimum bet laws were put in place it is more difficult, but you can operate again. If you have an email from the bookmaker stating that they are closing your account that is helpful. The easiest way to proceed is to try and open a new account. If that works, all is well, and no further action needs to be taken. If they refuse to create a new account, you may need to talk to customer service again and get the name and email address of the compliance officer. Write an email stating that you wish your account to be reopened. They won't want to give you a new account as it won't have your full history. If you don't end up with an account after this, make a complaint to a state regulator and include any correspondence you have.
It may not seem that way, but it is fair and reasonable that you only have one account with a bookmaker, so where multiple brands are owned by one company you may have to settle for one account across all their brands.
It should be obvious, but make sure you are pleasant and polite when talking or writing to bookmaker staff. If you come across as aggressive in any way, they have grounds under the Know Your Customer requirements to close or not allow you to have an account. This is because you will be giving them grounds to suspect that you are a problem gambler and they will have the evidence of your phone call, which will be recorded, and emails you send.
Minimum bet laws are useful but remember you will only end up with a restricted account when you go through these processes.
This article is a follow up to our popular article 'How do I avoid getting banned by the bookies?'